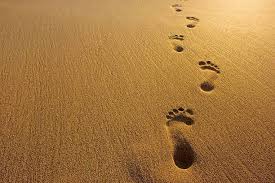 I traveled to a major city recently and met with a man who had given $25 million to charity over the last decade. The amazing thing was that he is in his 80's and still working everyday. As a matter of fact, he travels to China every month to oversee one of his new manufacturing companies. It seemed that the older he got the more he worked.
Over dinner I thanked him for his support, for his tenacious hard work and most importantly, his special heart. Then I pivoted to listen, by asking him one simple question, "Why?"
Why would a man in his mid-80's keep working so hard, continue traveling and consistently logging in many 60+ hour work weeks?
Why had he not retired, sold his company, slowed down and just managed investments?
He paused and with a steeled resolve he explained…
"Footprints…"
I interjected, "Oh, you mean like that Jesus poster I've seen; one set of footprints when things get tough because Christ is carrying you?"
He laughed and said, "You don't get it."
"You see, when you get to my stage in life, you begin thinking about your how little time you have and what you do with it," he continued. "It is not about what you keep, but what you can give away. It is not about how much money you make, but how much you can invest that can keep impacting the world after your time is up. You have to leave some footprints. I want to see my footprints all over the face of this planet before my time is done."
This man refuses to retire. Why? So he can expand his impact on the world! He continues to earn so he can expand his footprints.
I walked away with a deep respect for this man.  He had made such an impression on me.  When he could have been retired like most of his peers, in the 4th quarter of his life, he has decided instead to "leave a few more footprints." I had to ask myself how many other "footprint donors" were in my file. How many people are there who view themselves as vehicle to pass resources on in order to build a legacy… a footprint on the planet before they leave?
When working with "footprint" donors, it is critical to have your offer or case for support defined and the ask spelled out in writing. They are not just looking for their name slapped on a building. They want to know what impact the building is going to have, how many people the building will serve, and how many lives will be impacted.
They want to see lives impacted by what they give. The want to hear stories of lives changed forever, enabling children to return to school, empowering a parent to work again and contributing to the success of their communities.
Author Patrick Renn may have said it best in his book, Finding Your Money's Greater Purpose, saying:
"Each of us, through our contributions as volunteers and benefactors, holds the power to change the course of society for the better. We can leave our mark on this world with the time and resources that we dedicate to others. That is what becomes our legacy."
"Footprint donors" are looking to leave a mark on this planet that is distinctly part of their legacy.